| | | |
| --- | --- | --- |
| | Healthy | |
Morrisville Healthy Vending Machines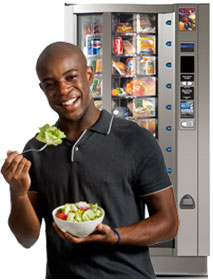 Pinnacle Vending Group understands people everywhere are asking for healthy snack, beverage, and food options. That's why we do our utmost to bring you a satisfying selection of delicious healthy options.
Healthy snacks mean less sick time for your employees
Employees feel better and work better
Satisfy employee desire to have healthy
snacks available 24/7
PVG carries a wide variety of healthy selections including trail mixes, baked chips, fruit bars, granola bars, juices, and bottled water. Choose from alternative food products, beverages, chips, candy bars, and cookies that have reduced levels of fat, cholesterol, and sodium.


We also stock a full variety of bottled waters, flavored waters, juices, teas, vitamin waters, diet sodas and low calorie sports drinks like Propel and G2.
Pinnacle Vending Group is a proud member of NAMA and participates in FitPick, a program emphasizing healthy snack and beverage choices.

Please contact Pinnacle Vending Group for a free, no-obligation discussion of your healthy vending needs. Call (267) 799.5743 or email info@pinnaclevendinggroup.com.
We are located in Morrisville, Pennsylvania, however, we service a wide area including, but not limited to Philadelphia, Bucks County, Falls Township, Bristol Township, Lower Makefield Township, Levittown, Langhorne, Bensalem Township, Mercer County, Hamilton Township, Princeton, Ewing Township, Monroe Township, Bordentown Township, New Brunswick, Trenton, Norfolk, VA, Portsmouth, VA, Hampton, VA, Yorktown, VA, Chesapeake, VA, Newport News, VA, Williamsburg, VA, Virginia Beach, VA, and Suffolk, VA.